Pallet trucks & warehouse lifts!
Discover our solutions for the purchase of electric pallet trucks, manual, with mast & warehouse equipment for all needs.
Pallet trucks for everything!
Discover the new pallet trucks with lithium batteries.

#1 in Warehouse lifting
Find the new solutions we have for the warehouse and lifting sector.
Over 3000+ customers
We are proud to have such a large clientele and to serve your needs every day.

Broke down? It is being repaired!
We take control and repair wherever you are, now!
Are you interested in instant offer?
Warehouse lifts & pallet trucks
The pallet trucks, manual or electric, consist the «smart» and very convenient solution in order to move pallets in restricted areas where these machines can reach even the most inaccessible spots despite the limited available space. They also have great lifting capabilities which fluctuate from 1000 to 3500 kilos. They are an ideal tool and they are the first option for warehouse companies, logistic companies and generally when there are merchandises on pallets. The pallet truck is used also as a supplementary tool for trucks.
Our recommendations as far as pallet trucks are concerned – manual or electric (batteries) – have great variations and they depend on the type of pallets you wish to move.
We have different types of manual pallet trucks with lifting capabilities from 1000 to 3500 kilos and fork length from 50 to 2500 cm constructed in China and Europe. There are also versions made of stainless steel or galvanized for application in the field of foodstuffs as well as versions equipped with a scale but also other versions for more specialized works.
Electric pallet trucks are divided into two categories. If the operator is on foot they fall into the category of the on-foot operator and if there is a driving spot for the operator, sitting or standing they fall into the category of a rider with a platform.
There are even more simple versions where the electrical movement is provided to the lifting but not to the movement.
Their lifting capabilities start from 1000 kilos and 20 cm high and reach 2000 kilos and 6 meters high.
About Pallet trucks & Warehouse lifts
Due to the growing demand of the market for the purchase of pallet trucks and lifting warehouses, we make sure to meet this need, with the most appropriate machines on the market.
More than 25 years of specialization
Purchase of a pallet truck
Sale of a pallet truck
Pallet truck leasing
Purchase of pallet truck with mast
Sale of a pallet truck with mast
Buy a stacker
Pallet truck Repair
Pallet truck workshop
Modern services & after-sales solutions
Pallet truck repair in your area
New & used pallet trucks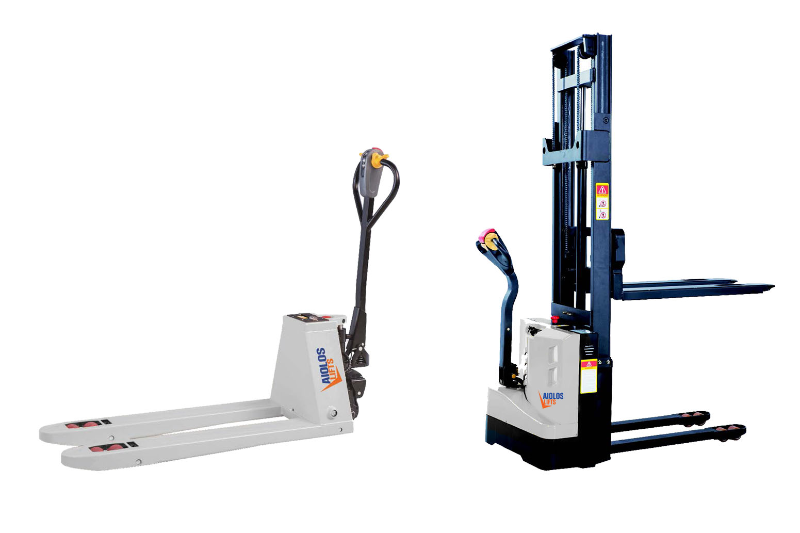 Any questions?
(+30) 210 800 1500 – 2
#1 Quality in Spare Parts
The world and the services of supply-chain are becoming more and more complex. Companies increasingly need an unrivalled experience and the expertise of a high-end lifting equipment service provider. Discover our solutions for the repair and maintenance of your fleet.
100% Trustmark
The term «lifting» is not complete if it not combined with the relevant term «reliable». This is exactly what we believe in Aiolos Lifts and in this field, we have made the arrangements so that our customers can enjoy complete service provision.
Lithium Pallet Trucks - 2020
The A and the Z in the field of lifting equipment and warehouse are, as we all know, pallet trucks. If the pallet trucks are not new-generation, ie electric, the staff cannot perform to the maximum and the quality of the work is lower than expected, so the result is often detrimental.
Let's dream something, together!
Because for many years we are pioneers in the field of forklifts and we offer you our services with professionalism, responsibility and good prices!
Should I wish to rent a forklift, should I rent it for a week minimum or more?
No. We can offer forklifts with lifting capabilities from 1500 to 8000 kilos, with an operator for a few hour, daily or weekly use. Therefore, you can rent the machine you are interested in for the time period you wish.
I want to buy a forklift which can lift 1000 kilos. What do you suggest?
To be on the safe side, you must buy a forklift which is able to lift 1500 kilos minimum. You can choose a forklift either with electric movement or gas, diesel depending on the area of use but also the height (lifting height).
There is a damage, my forklift does not turn on. Can you help me?
Of course, we can. Give us your address and our mobile service will be next to you shortly for the repair of the damage!
I need tyres for my forklift, can you help me?
Of course, we can. Just inform if the tyres are pneumatic or solid, as well as the brand of the machine, and we can take your old tyres and in a short period of time, we will place the selected tyres.
I am calling from the provinces and I need a spare part of a water pump. Can you help?
Of course, we can. Inform us with the brand, the model and the type of your machine and we will send you the specific spare part immediately.